AVANTGARDENS KVINDER / SALON
Vi ønsker et laboratorium for at skabe en eksperimentel SALON, inspireret af mellemkrigstidens kunstnermiljø¸ og modbevægelser, et sted hvor vi dykker dybt ned i den kollektive process for at finde et nytænkende udtryk i relation til vores nutid, tematik, form og process. Hvad er 2020ernes avantgardisme?

HAUT x Bikubenfonden Pop Up Residency
> residensperiode d. 22.06.-25.06.2020 
Genre: Kollektive processer i scenekunst.
Den kunstneriske undersøgelse
Gennem en kollektiv sanselig bevægelse vil LOGEN genoplive og reetablere de glemte Avantgardens Kvinder og omskrive vores egen historie. I gennem en eksperimentel undersøgelse af SALON formatet, håber vi finde klarhed i vore egne visioner.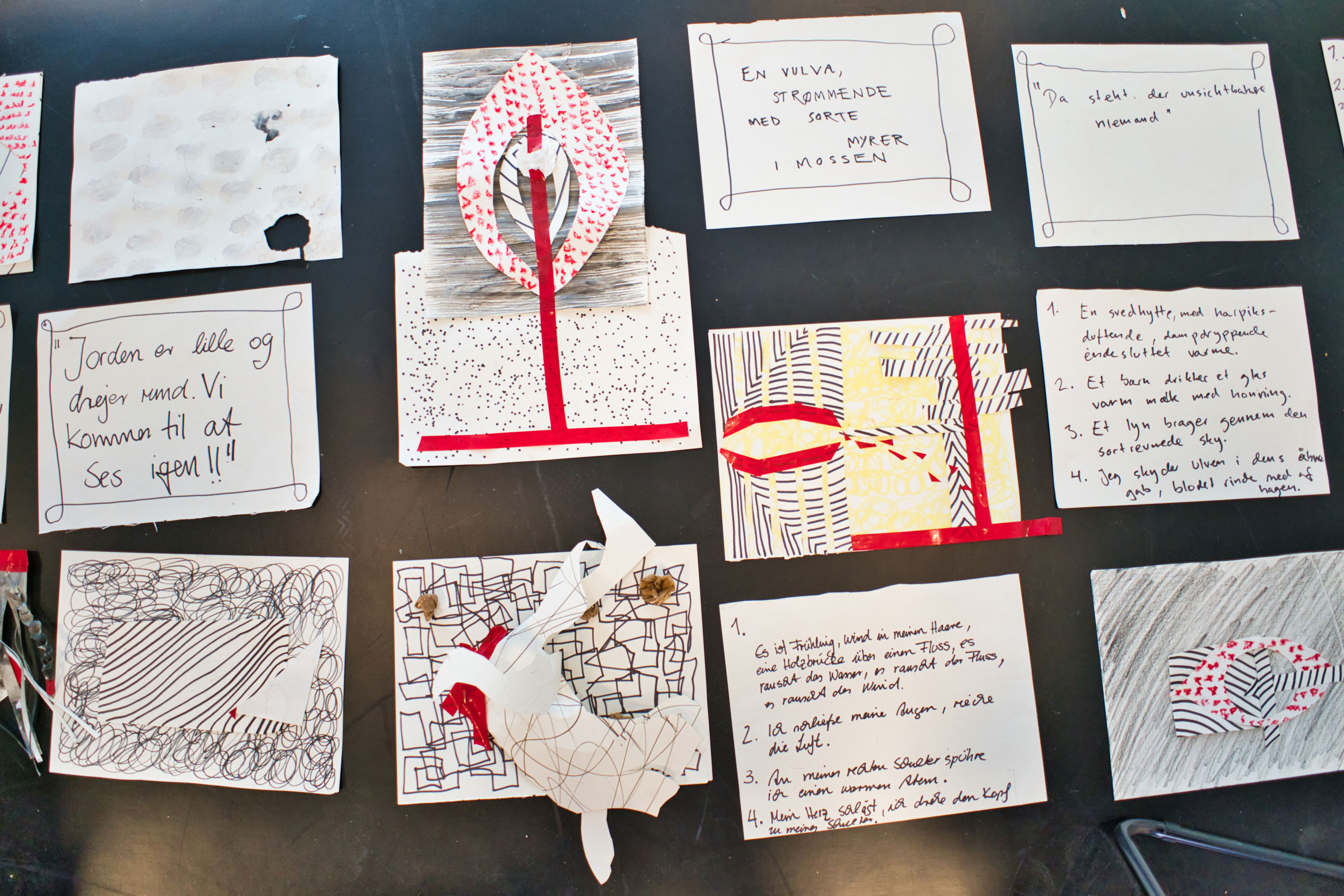 Foto af Morten Arnfred, Good Place Productions
LOGEN er lydkunstner/komponist SØS Gunver Ryberg, danser/koreograf Sofia Karlsson, scenograf Nathalie Mellbye, skuespiller Patrick Baurichter, instruktør Anja Behrens. 
Med de to eksperimenterende værker "Historien om Øjet" og "DEATH TO TRUTH OF BEAUTY" har LOGEN etableret sig i scenekunst miljøet i Danmark med en vilje til at udfordre den kollektive proces, det klassiske produktionsforløb, og det intime rituelle møde med publikum. Vi vil trænge igennem kødet og lave vrang-spejle for vores publikum i grænselandet mellem trancendencerende øjeblikke og refleksiv samtidskritik i et sanseligt, ekspressivt og surrealistisk univers. Gennem en rituel arbejdsmetode mødes deres tværfaglighed i et søgen efter en non-hierarkisk proces, hvor der er en anden dagsorden der er gældende en individets selvrealisering. > Læs mere her
Kreditering
Gruppens arbejde med AVANTGARDENS KVINDER / SALON er udover HAUT og Bikubenfonden, støttet af Statens Kunstfond og S/H.
HAUT x Bikubenfonden Pop Up Residency
AVANTGARDENS KVINDER / SALON er en del af HAUT x Bikubenfonden Pop Up Residency, som er et testforløb af studio residency formatet og er rettet mod de uafhængige scenekunstnere inden for tværæstetisk scenekunst. Kunstnerne tilbydes et op til 4 ugers langt residency, med mulighed for sparring fra udvalgte feedbackpartnere, hvor der sættes fokus på, hvordan kunstnerisk feedback kan styrke et projekts videre udvikling. HAUT x Bikubenfonden Pop Up Residency finder sted i København, hvor en etage i Fondenes Hus er indrettet studio med dansevinyl og en enkel teknikpakke. Det samlede udviklingsforløb har til formål at undersøge, hvilke behov, der er for residencies, og hvordan et studio residency kan kvalificere kunstnerisk udvikling.