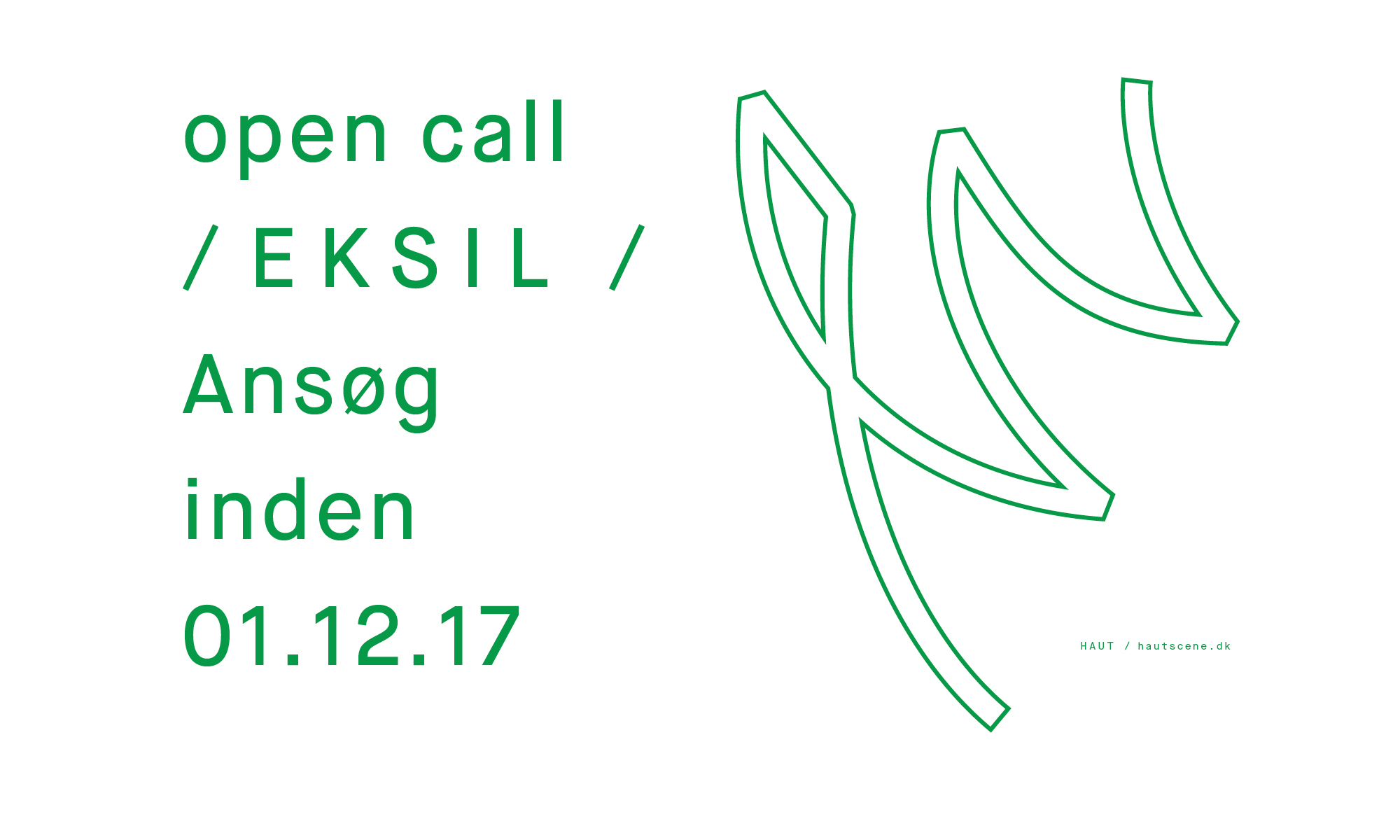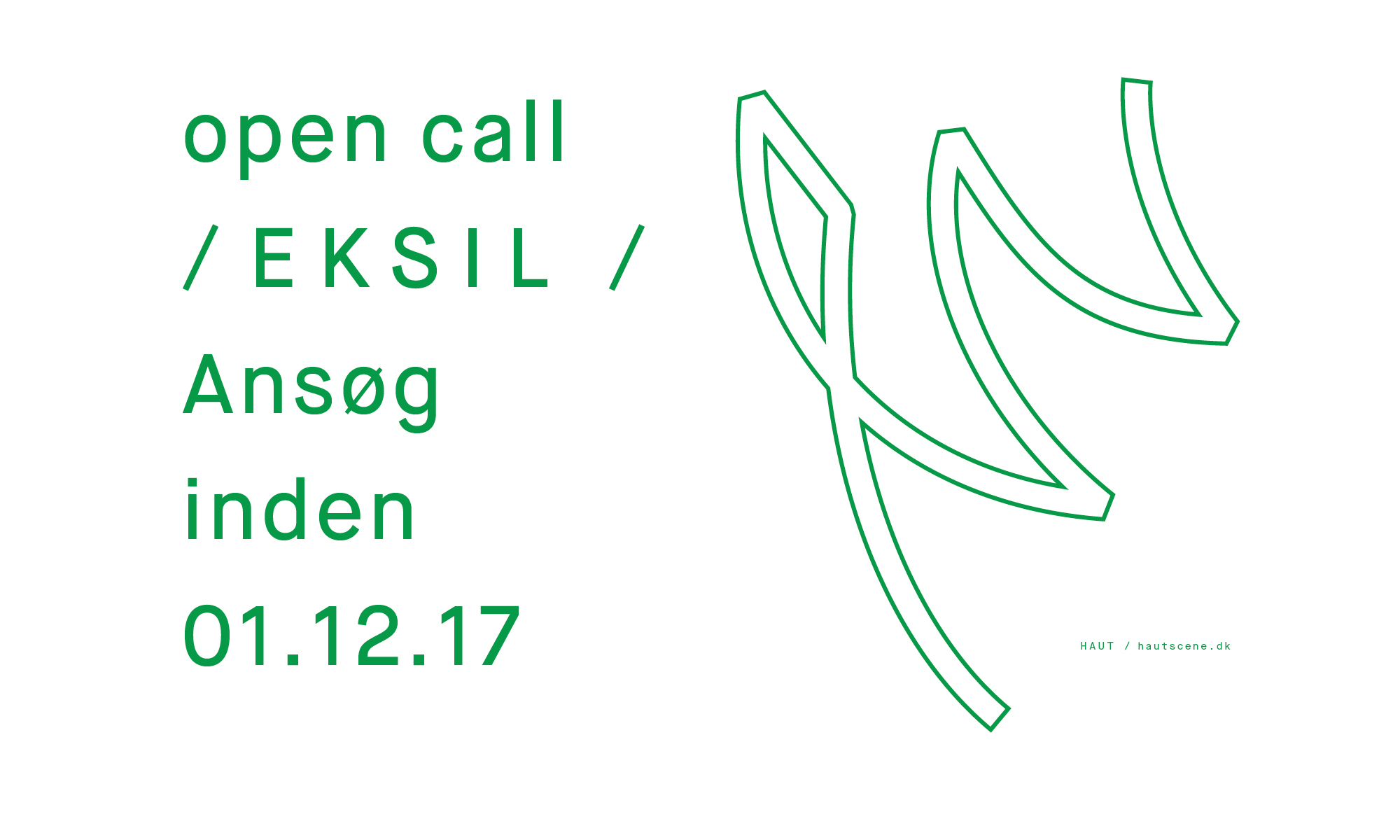 Open call til EKSIL på HAUT i august 2018
HAUT søger nye scenekunstneriske projekter til vores scene hos Sort/Hvid i Den Brune Kødby. Vi inviterer derfor alle scenekunstnere og interesserede til at ansøge om at få mulighed for at indtage EKSIL-scenen med et scenekunstnerisk eksperiment eller en workshop, som udfordrer traditionerne og kan være med til at skabe fremtidens scenekunst.
HAUT kuraterer projekter som:
- udvikler nye sceniske sprog og formater
- udfordrer traditionerne
- er samfundsundersøgende
- interesserer sig for fremtiden
Vi giver EKSIL-plads til dig der arbejder med en idé eller et koncept, som du vil videreudvikle på HAUT. Vi giver ikke plads til færdiggørelse af produktioner. Vi er interesseret i alle former for performative genrer – alt fra dramatisk tekstudvikling til performative udstillingsformater.
EKSIL-perioden løber fra mandag den 30. juli 2018 – 26. august 2018. Du kan søge 1 – 3-ugers forløb inden for dette tidsrum. EKSIL-perioden afsluttes med en fælles EKSIL-festival i weekenden d. 30. aug. – 1. sept. 2018, hvor hovedprogrammet vil være visninger af de EKSILer, som er blevet produceret i august. Det bliver samtidig en festival for udveksling og inspiration med debatter, møder, fester og åbne laboratorier.
Hvad får du? Hvad skal du give?
Hvis du kommer i EKSIL hos HAUT får du gratis lokale og administration, og vi stiller tekniker til rådighed for projektet. I forhold til løn og produktionsmidler, regner vi med, at du selv fundraiser. Vi hjælper gerne med feedback og ideer hertil. Derudover ordner vi alt vedrørende bar, billetsalg og PR. Her er gratis kaffe, begejstring og rengøring, og så skal I selvfølgelig rydde op efter jer selv og passe godt på huset.
Ansøgningsfrist 1. december 2017
Du får svar på din ansøgning inden 10. januar 2018, og vi anbefaler dig, hvis du får positivt svar, at søge Statens Kunstfonds pulje "Scenekunst, børn, unge, voksne" med frist d. 15. februar 2018.

Sådan søger du EKSIL hos HAUT
Følg ansøgningsvejledningen og send din ansøgning i en samlet PDF til: info@hautscene.dk inden d. 1. dec. kl. 24.00. Du kan se vores teknikliste og lokaleoversigt. Hvis du har specifikke spørgsmål i forhold til lokaler, teknik og økonomi, er du altid velkommen til at ringe.
Vi glæder os til at modtage jeres ansøgninger.
OPEN CALL – Exile at HAUT August 2018
HAUT is looking for new talent within the performing arts for our new stage at the theatre Sort/Hvid in the meatpacking District of Copenhagen. We invite all performers and other artists interested in the performing arts to apply for a short residency focused on developing a specific experiment, performance or workshop that challenges the traditions within the performing arts and looks towards the future of the field.
We curate projects that:
- develop new formats and languages for the stage
- challenge the traditions
- analyse and investigate society
- have an interest in the future

We are able to offer an EKSIL residence to people who are in the process of developing an idea or a concept that you can further develop at HAUT. We will not offer EKSIL residencies for productions in the finishing stages of their process. We are interested in all forms of genres within the performing arts - from dramatic text development to performative exhibition formats.
The EKSIL period runs from July 30th 2018 to August 26th. You can apply for a residency of 1-3 weeks during the period. The EKSIL period will culminate in an EKSIL festival. The main programme of the festival will include the EKSILs that have been developed at HAUT during August and will take place in the weekend of August 30th - September 1st of 2018. Not only will the festival display the EKSILs, it is also going to be a festival of inspiration, exchange of ideas, debats, meetings, parties and open labs.
What will you be getting from us? What do we expect of you?
If we accept you in our EKSIL programme you will get free access to our rooms and administration as well as free help from a technician. Regarding compensation, we expect you to fundraise your own salaries and production expenses. We do however offer help in doing so by providing feedback to applications and suggestions as to where to apply. We will also take care of everything regarding ticket sales and PR. Coffee, cleaning and enthusiasm comes for free, but please tidy up after yourselves before you leave our premises.
Deadline for applications is December 1st 2017.
You will get response to your application no later than January 10th and if you are accepted in our programme we encourage you to aplly The Danish Arts Foundation in the pool "Scenekunst, børn, unge, voksne" no later than February 15th 2018.
Follow the instructions here and send your application in 1 PDF to: info@hautscene.dk no later than December 1st 12 pm. Find our list of technical equipment here. If you have any specific questions regarding our rooms, technical equipment and economy don't hesitate to call us.

We're looking forward to receiving your applications!